Johann Meyer and his new home in the Swartland
Johan Meyer, affectionately known by everyone as Stompie, is one of South Africa's leading natural winegrowers. He has been making his own wines since 2008 as a side job, and since 2015 he has been working full time on his JH Meyer wines, also making Mother Rock and Force Celeste wines in a partnership with Indigo Wine in the UK. Now he has bought an estate and planted vineyards – an exciting development. Ring and I visited this new farm, Platteklip, on a beautiful November afternoon to learn more.
2008 was a good time to start as a new producer in the Swartland,' says Stompie. I think it is now more challenging for a young man to start and try to get into the market. It's getting harder to find good grapes. That's the reason we bought an estate: to get something sustainable. I have all these brands, but I've lost about four vineyards in the last two years. Especially in Elgin, vineyards have been cut out in favor of apples. "I can't afford R30,000 a ton," he says, "and they can't afford less, so they plant apples. The larger buyers with more money and power are also taking some vineyards. He lost a Grenache vineyard because the farmer needed a commitment for a higher price and volume. It's a shame, but what can you do about it? All you can do is buy land and plant it yourself.'
So he does it, Craig and Carla Hawkins do it, and who else? People are looking, but buying land is super difficult,' he says. I was lucky enough to be able to buy this land. I was looking for it for two years, then it hit the market and I got my hands on it pretty quickly. I bought it in cash. Not much real estate is available.
Getting financing is difficult in South Africa. Unfortunately, when it comes to wine, the banks in our country are not really open to it. Stompie has done everything with cash, without loans. 'I owe nothing. It's a nice feeling, but it's hard. We build ourselves, we plant ourselves. We did everything with a lot of blood, sweat and tears.'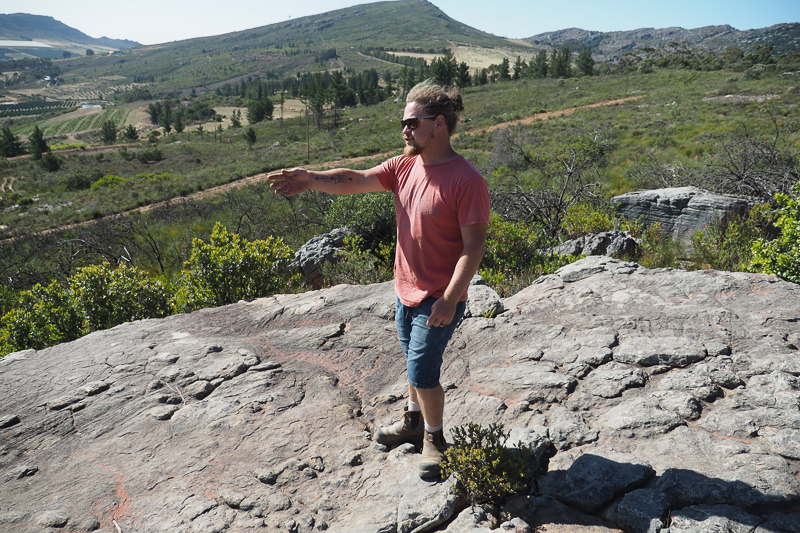 Stompie has taken up residence in Platteklip's new basement, meaning 'flat rock', and is still transferring equipment. It was a chore because there was nothing there,' he says. We've done a lot of work over the last 14 months, building and tearing down, planting vineyards and trying to keep the animals out of the vineyards. It was hectic.'
He bought the estate in 2016, and spent quite a bit of time researching the soils and deciding how to plant. He set up a weather station and researched the climate. That was necessary, because it is not normal to plant Pinot Noir and Chardonnay in the heart of the Swartland. Although, to be fair, this is not typical Swartland.
'It's called Swartland now,' says Johann, 'but I'm working on SAWIS at the moment [het overheidsorgaan dat toezicht houdt op de wijngaarden] to subdivide it, to create a new provenance wine, because the climate is so different.' It is normally about 6-8 degrees cooler here than where most of the Swartland vineyards are located. It also has higher rainfall. "We're about 650 m from here." How can you create a new WO? 'It's like going to court: you have to have a good explanation, and saying this is why I want a new sub-appellation. The most important is the climate. I have been collecting information about this company for four years now. The soil also plays a role. He just submitted the application for the new WO called Picketbooberg, which means the top of the Picketberg.
The reason for looking for a new WWII is that people raise their eyebrows when they see Pinot Noir, Sauvignon Blanc and Chardonnay labeled Swartland WO.
The conclusion of all the soil and climate research was that the Sauvignon Blanc was the most suitable variety for this. I said, I have about 15 acres that I can plant. I'm willing to offer half a hectare for Sauvignon Blanc." So he planted Sauvignon at 5000 vines/hectare. We'll see how it turns out. This is the coolest part of the vineyard, facing south, next to the winery. The whole The domain is 32 hectares, part of it is not plantable, so there is a lot of natural vegetation, including rare fynbos species.The vineyards are planted on virgin soil, and they are the only vines on the mountain. It is a nice feeling to working from scratch with clean soil,' says Stompie.
The vineyard is about 30 km from the ocean (the west coast), and on a clear day you can see the tankers at sea. An ocean breeze comes through the vineyard every afternoon, helping to cool things down, as well as reducing disease pressure. There is also a good fluctuation in the daytime temperature, from 30°C to 12°C at night.
The vineyard is currently under development and is still being planted.
He is talking to his neighbors to see if they want to plant for him. I have two guys who are willing to go for 15 acres," he says. This would cover the need for the Force Celeste brand that he makes in collaboration with Indigo Wines (his UK importer), for which he currently buys grapes. Force Celeste was called Force Majeure until last vintage, but they ran into trouble because there's a winery in Washington state with that name.
Does grenache have good future potential in the Swartland? "Yeah, but even more up here, with Table Mountain sandstone bottoms and a little bit of elevation. Grenache grows well at height, in my opinion. The Swartland has great bottoms for Grenache, but we just need a little height, and this is as high as you can get into the Swartland. Looking at the drought, Grenache and Mourvèdre were the two varieties that did well. The yields of these varieties did not drop as much as those of Syrah. They like the heat.
When you look at planting vineyards, you look at cold units throughout the year," Stompie says. "The main area where they use this is actually in fruit planting. If you want to plant an apple tree, you need at least 800 cold units. If there are apples, I can plant Pinot Noir and Chardonnay. They need the same type of cold units. To give an example, Hamilton Russell in Hemel-en-Earde, gets 780-820 cold units per year. I get 1100 a year. My average daytime temperature here is 2°C colder than Hamilton Russell. The altitude is responsible: for every 100 m of altitude you go down 1 C. The highest vineyard here is at 820 m.
All his wines are whole bunches, pressed or fermented. He has no destoner. Maybe I'm lazy because it's a mission to clean them," he says jokingly. The previous cellar was in Hermon, which he rented for four years. Now Ryan Mostert and Sam Suddons are moving in with their Silwervis, Smiley and Terracura wines.
The use of sulphite is low, many wines do not receive any additives. "I have shipped many wines all over the world with no sulfites added, and without any problems," says Stompie. "If you work correctly in the low pH vineyards, it works." He adds that stabilizing wines naturally takes time.